Interior Architecture And Product Design At K-State Ranked At The Top
Kansas State University's Interior Architecture & Product Design (IAPD) is ranked one of the top graduate programs in the country. For more than 15 years "America's Best Architecture & Design Schools" from DesignIntelligence has been the definitive school ranking in architecture, landscape architecture, interior design and industrial design. The rankings show Kansas State University IAPD as the #1 graduate program in the Midwest region, #1 in construction methods and materials, and the number #1 graduate program at a public institution nationally.
The rankings survey is conducted annually and the research ranks undergraduate and graduate programs from the perspective of leading practitioners. The selected professional practice leaders are posed the question, "In your firm's hiring experience in the past five years, which of the following schools are best preparing students for success in the profession?" In addition, the practitioners are asked about which programs are best in teaching skills such as design, communication, sustainability and technology. The rankings are based on their responses.
"These rankings reflect not only the long trajectory of quality in our programs and the unwavering intensity of our students, faculty and graduates, but the uniqueness of the IAPD curriculum focused on designing and making at all scales of the interior environment," Tim de Noble, dean of the College of Architecture, Planning & Design.
Katherine Ankerson, Interior Architecture and Product Design Department Head said "We are pleased to see our continued efforts to remain at the leading edge of design education recognized in this fashion. IAPD students experience the varying scales of design in an interwoven curriculum and are engaged in a continual process of design + make. Our graduates represent these values well in the workplace, the quality of our students is superb, and of course the quality of our faculty and staff represents an exceptional diversity. It is important to note the incredible support of the University's upper administration, the Dean's tremendous support in our College, and an Advisory Council that continually devotes intellectual energy, relationship capital, and excellent advice!"
3rd Year Students Begin Mobile Environment Project
IAPD 3rd year students begin their 'near environment'/mobile environment project to transform an El Dorado National executive coach van into a mobile work and relaxation center. 4 groups will create individual and group work relaxation zones within the interior for the next 5 weeks. Expectations and energy levels are high! You can watch the progress in the east lot at APD West.
College of APDesign Helps With Wounded Warrior Farm Training and Healing Center Design
Students in the College of Architecture, Planning & Design participated in a design charrette and joined hands in developing a master plan for the Farm Training and Healing Center for wounded soldiers.
This design charrette was organized by Vibhavari Jani, interior architecture & product design associate professor; Jessica Canfield, landscape architecture and regional & community planning assistant professor; and Bruce Wrightsman, architecture assistant professor, to assist Soldier Agricultural Vocational Education, or SAVE, an organization started by retired Maj. Gary LaGrange, a Vietnam War veteran. The organization's mission is to provide agricultural vocational education and healing resources to returning wounded soldiers.
Jani welcomed the organization's members, soldiers and guests and introduced the design charrette goals. LaGrange presented his organization's objectives for this project. Interior architecture & product design students introduced the site for the project and discussed project needs on the Farm Training and Healing Center.
Students were divided into interdisciplinary teams of four to six. Each team collaborated to develop a master plan for the facilities. The concluding results of their design efforts were presented the following evening. After getting feedback from the Soldier Agricultural Vocational Education organization, Interior architecture & product design students selected one of the master plans that best suited the needs of the organization. Students will continue to develop this project further. At the end of the fall semester they will present their design ideas on the progress of the project's facilities.
This charrette was developed to provide a collaborative service-learning opportunity for the APDesign students. Service-learning pedagogy promotes a teaching and learning strategy that integrates meaningful community service with instruction and reflection to enrich the learning experience, teach civic responsibility, and strengthen communities, according to the Learn and Serve America National Service Learning Clearinghouse.
Interior architecture student and professor collaborate with veterinarians to design enhanced treatment options for animals using 3-D printing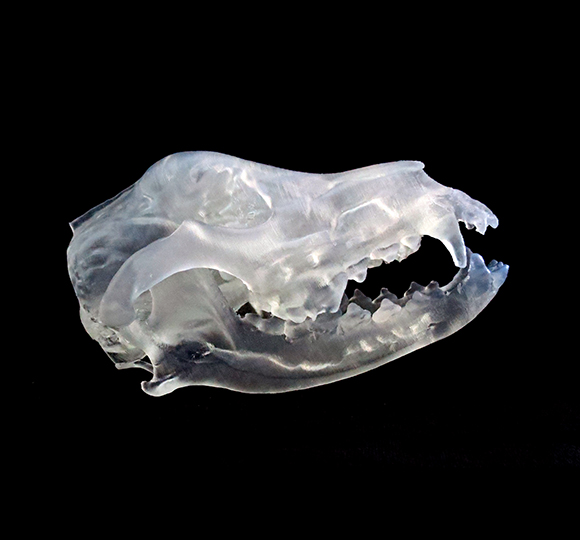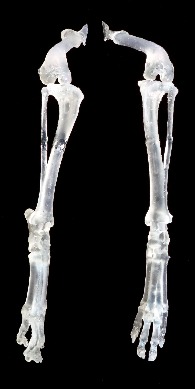 A research project by an interior architecture & product design student at Kansas State University is one that could get some tails wagging. Kelsey Castinado, now a fourth-year student in the College of Architecture, Planning & Design, turned CT scans of animal bone fractures and deformities into full-scale 3-D prints that veterinarians at the university's College of Veterinary Medicine are using for teaching, to plan surgeries and to find more cost-effective ways to treat four-legged patients

The project, "3-D Printing Animal Bone Fractures Through Experimental Applications in Digital Fabrication," was suggested to Castinado by her second-year studio instructor Dustin Headley, an assistant professor of interior architecture & product design. Headley's research interest is in digital design, including 3-D printing.


2015 DesignIntelligence Rankings named K-State's Interior Architecture & Product Design graduate program one of best in nation!
Map shows locations of the 2015 Top 10
Rankings for the #1 Program in the Midwest and #7 program in the Nation remained unchanged from the previous year's rankings, and the program was recognized by the Deans and Directors Survey for the most admired Interior Design Graduate Program. To top off the rankings, note that Kansas State was the 2nd highest public university program for the year 2015 in the rankings. Responses for the 2016 Rankings will close soon, if you are in a hiring position, please respond to the short survey and remember to identify Interior Architecture & Product Design in the Graduate Program section.
These 'skins' are in: Students' designs give prosthetics a new look
A project by Kansas State University interior architecture & product design students is giving individuals with prosthetic limbs a chance to add some personality to their prosthetic and show the students that their discipline goes beyond creating products or designing spaces.

Using his interest in bio-augmentation through 3-D printing, Dustin Headleyand the 27 students in his second-year undergraduate product design studio class worked with six clients who are leg amputees to design a cover — or "skin" — that could become part of their prosthetic.
IAPD Student wins National Competition
Fourth year student Emma Montgomery was awarded the Grand Prize award for the second annual Steelcase NEXT competition. The competition challenged students to design a space that would allow learning to happen everywhere — not just in the classroom. Her design, rendering below, won her a trip to Grand Rapids, MI as a semi-finalist. While there, Montgomery, along with four other semi-finalists, presented designs to a panel of judges. Katherine Ankerson, professor and department head of interior architecture & product design, said, "I am pleased to see Emma's work recognized in this manner and in such a national arena. Rethinking design for higher education involves recognizing how students learn and the role of the environment in supporting those learning modes and styles." Read more about Montgomery's accomplishment and the competition here.
International Woodworking Fair Update
IAPD was well represented by our students at the International Woodworking Fair during the week of August 20th. One student was honored with the prize of second place in the Commercial Design Division. Richard Thompson's chair, Tiki Chair (seen below). Department Head Kathy Ankerson notes "We are very pleased to see Richard's creative work recognized in this way and to have one-quarter of the student finalist work at IWF Atlanta be from K-State. Our students learn to view design problems through multiple scale lenses, and respond to human comfort, material and connection attributes, as well as 'fit' within an environment. Richard's work is an excellent example of these parameters." Congraulations!
e.