Due to a rapid, uncontrolled increase in positive COVID-19 cases in our campus communities and throughout the state, Kansas State University is canceling commencement activities scheduled for Nov. 20-22. This includes ceremonies scheduled for the Manhattan and Salina campuses. The university will hold a virtual recognition in December, details will be published on the commencement website.
Your Future Begins Here

Take a look at the APDesign YouTube Channel
The 2020-2021 Ekdahl Lecture Series is now on YouTube - Did you miss one of the sellar lectures this fall? Not to worry just select the one you would like to view below:
September 30 - Andreas Bell
October 7 - Carlos Jimenez
October 12 - Sara Zewde
November 11 - Brie Hensold
APDesign NEWS
Architecture students win honors at 22nd annual
Bowman Design Forum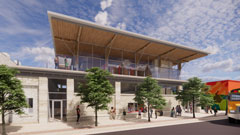 Six architecture students in the Master of Architecture program in K-State's College of Architecture, Planning & Design, or APDesign, displayed outstanding design work at the 22nd annual Bowman Design Forum conducted virtually Nov. 11.
Sponsored by Manhattan architecture firm BBN Architects Inc. and hosted by APDesign, the forum brings acclaimed architects to campus to discuss work by students in the architecture department. The forum is an opportunity for students to present their work to architecture practitioners and educators for critiques.
More News Releases


Spotlight Story
Educational Access and the Future Impact of Design
Foresight: A Look Ahead DesignIntelligence ResearchMore designers...Greater breadth of disciplines and leadership in society...An expansive paradigm for our professors unfettered by limitations...Licensing barriers and access to address poignant issues: Message points for future impact.by Tim de Noble, FAIA